What is HRMS
"HRMS" or Human resources management system refers to a suite of software that organizations use to manage internal HR functions. The function of an HRMS is to leverage technology to increase efficiency and help to create a more productive workplace. An HRMS enables a company to easily manage its employees while staying compliant with changing tax laws and regulations. Research also has found that human resource management software can increase the whole company's service quality, organizational effectiveness, efficiency, and employee work performance.
HRMS sometimes labelled as the same with Human Resource Information System, in reality HRIS is a different type of system. Functionally, however, there is no real difference in the kind of systems offered to go by one title or the other. At one time, an HRMS was a more complete automated solution to human resources management than software labeled as HRIS or even HCM.
What Features HRMS Should Have?
HRMS eliminates the tedious paperwork and other employee record-keeping activities such as employment history, education qualification, training certification, compensation and benefits, and personal identification proof. The HRMS helps the manager to store all this system efficiently safely and securely so that the data can be retrieved for administrative purposes. Because an HRMS will be open to the entire workforce, a user-friendly interface is also a critical point. Today's systems feature employee and manager self-service, mobile apps, localization, personalized dashboards, workflow automation, role-based access controls, and notifications to keep employees engaged and inquiries into the HR or IT departments to a minimum improved employee engagement.
HRMS also stands out with other exceptional features and benefits. For example, HRMLabs features start from employee data management, payroll automation, attendance-scheduling, leave management, inventory, training, and even performance appraisal. All these features will help HR professionals manage the modern workforce.
But then again, when selecting HRMS for your organization, your primary focus should be not only the type of system or features. Check what processes it may automate and compare it with other similar systems. Write down the list of requirements for your business processes, and compare systems by their functions and processes. Check development plans and history. Because different HRMSs excel in certain areas. Do you have a lot of turnovers? Then look carefully at candidate management capabilities. Got a multi-payroll cycle? Make sure the system can handle complex payroll scenarios.
The benefit of using HRMS for Company
These are the major benefits of HRMS software implementation in an organization. HRMS software improves employee engagement, manages employee lifecycle, boosts productivity, and much more of an organization. HRMS also helps to speed up the documentation process for new hires, which greatly helps during the hiring and onboarding process. With the help of various functions, such as employee performance appraisal, the HRMS helps to always highlight the goals of the business and works towards improving commitment, inspiration, and information among the workers.
Without an HRMS, employees and managers create data in various places, from spreadsheets to expense apps to paper records, making it impossible to gain a comprehensive view of workforce costs. With an HRMS, all data is in a single bucket, with higher integrity. That enables better, faster decision-making. It's also pivotal to a workforce planning and analytics initiative, where a company assesses its current workforce and compares that reality with future needs as determined by business objectives.
When it comes to investing in technology, every employer thinks twice before taking a step. This is because most of them think that implementing HRMS is a costly affair; however, it is not true. Nowadays, a company can find a system in any budget parameter, from high-end to even the free ones. Secondly, once a company has the right software in place, it can avoid those unnecessary expenses due to errors and non-compliance. All in all, HRMS software can save a lot of money for a business, be it small or large.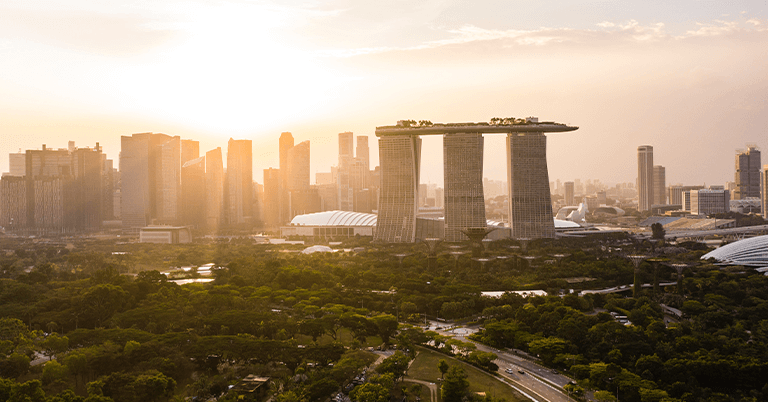 How to Choose the right HRMS in Singapore
The following pointers should guide you in a systematic approach to finding the right HRMS. Though as a thumb rule if, reducing cost, improving productivity, and engaging your employees are your primary concerns, then sticking to a cloud-based solution would be your best bet. Lastly, do not zero down any software available in the online market. Take enough time and ensure that you are investing in one of the best HRMS software in Singapore.
HRMS providers in Singapore offer a complete solution to help you streamline the administrative and strategic side of HR functions. HRMS must be tailored to the demands of businesses of different sizes. The key features must include employee record management, payroll management, time and leave management, and training management. There are many HR software suppliers in Singapore that appear to provide similar services. Some might be the right fit for your needs.
Cloud-based HRMS solutions in Singapore are now also available to SMEs in a user-friendly and easy-to-manage format. These HRMS cloud solutions can be used even by someone with little or no technical experience. HRMLabs as one of the Cloud-based HRMS solutions in Singapore can help businesses eliminate the manual HR management process. A qualified company can also claim Productivity Solutions Grant (PSG) support funds.
If you are still unsure about how to choose the right HRMS you can book your free consultation with our team and demo here.