For companies who aren't currently using HR software, knowing what to expect in terms of cost is a critical factor to consider. In business, budget restrictions can be a challenge that can dissuade decision-makers from purchasing new software.

Human Resources Sofware can do a lot for an organization. It can save a lot of money, reduce administrative HR burdens, and improve employee retention.
It can also be costly to implement.
But, how much exactly should you be spending on your HR Software?
The decision to implement an HRIS comes from measurable business objects. Our research showed that one of the main reasons that businesses chose to implement HR software was to increase efficiency and gain greater functionality.
What Advantages You'll Get
Before you think about how much it cost, you have to undestand what advantages you will get if you used HR Software. You know that efficiency gains come in many forms and can provide cost savings resulting in a positive ROI, including :
Time savings from employee self-service resulting in faster HR transactions as employees manage their own information and transactions such as booking time off.
More streamlined processes resulting in time savings on administrative tasks for HR staff. This also ties into consolidating disparate systems as working in one system, rather than consulting and working across multiple systems for one task is cumbersome and time-consuming.
Improved onboarding leading new employees to feel more confident in their decision to join the business and more likely to be retained.
Lower employee turnover by calculating the number of recruitment campaigns you haven't run and allocate a cost value.
Better legislative compliance by reducing incorrect or late filing from system settings and notifications.
You must assign a cost value for all of these benefits, whether that be the hourly wage of the HR worker who would have to carry out that task, or a set cost for each benefit. And, of course, there's the obvious stuff like headcount reduction – if you are genuinely providing the same or better HR service with less HR staff then a simple FTE (full-time equivalent) calculation will give you a figure to throw into your HRMS return too. This is the example of the calculation if you used HR Software or not: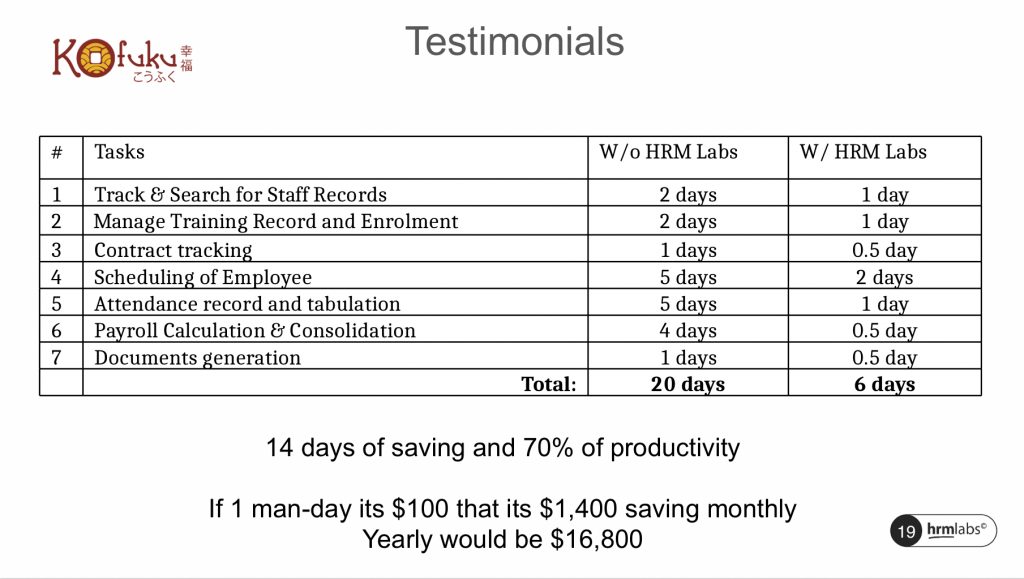 Now you know what you can expect to pay for HRMS and what you can expect to gain from implementing a new system. Whether you realize these benefits is up to you.
How Much It Costs?
We've searched through a variety of sources company websites and review sites in order to the best HR Software in Singapore based on their pricing, their customers, and their services provided.

HRMLabs provide you :
√ Accurate Facial Recognition
Fast and accurate to recognize employees' face in 1-second, even with the mask on
√ Auto Temperature Screening
Take temperature and alert for abnormal temperature automatically
√ Cloud Attendance Management
Recognize employees' or visitor with the job details
√ Integrated with Leave and Payroll System
Yes, All in One! HRMLabs synchronize your employees' attendance with payroll system
With only $1 Per Employee, you'll get all in one HR Management!