You know how challenging it can be to handle all the human resource tasks that come with running a business in Singapore. From payroll and benefits to recruitment and training, you have to deal with a lot of paperwork and processes that can take up a lot of your time and energy. You might also be looking for ways to improve employee engagement, retention, and performance.
But what if there was a way to simplify and automate these tasks, so that you can focus more on the real work and strategies that drive your business forward?
One solution that can help you achieve these goals is HRMS, or Human Resource Management System.
What is HRMS?
HRMS is a software that combines human resource management with information technology. HRMS helps you manage your internal HR processes, such as employee data management, payroll, benefits, training, and talent management. It helps you collect, store, access, and analyze employee information, as well as automate various HR tasks that would otherwise require manual work.
For example, with HRMS software, you can:
Manage payroll and tax calculations, deductions, and compliance
Track attendance and absentee data, as well as leave applications and approvals
Manage employee benefits such as health insurance, retirement plans, and bonuses
Recruit new talent and onboard new hires
Conduct performance evaluations and feedback sessions
Provide training and development opportunities for your employees
Generate reports and analytics on various HR metrics
By using HRMS, you can save time and money, reduce errors and risks, enhance data security and compliance, and improve employee satisfaction and productivity.
How Does HRMS Software Work?
HRMS software works by integrating various modules that perform specific functions related to human resources management. Each module can be customized to suit your business needs and preferences. For example, you can choose which features you want to use, how you want to configure them, and what data you want to collect and display.
Some of the common modules that HRMS software offers are:
Payroll module
This module handles all the aspects of payroll processing, such as salary calculations, tax deductions, statutory contributions, reimbursements, payslips generation, etc. It also ensures compliance with local laws and regulations regarding payroll.
Attendance module
This module tracks the attendance and working hours of your employees using various methods such as biometric devices, mobile apps, web portals, etc. It also allows you to manage leave applications and approvals, as well as monitor absenteeism rates and trends.
Benefits module
This module manages the benefits that you offer to your employees, such as health insurance, retirement plans, bonuses and other perks. It helps you keep track of benefit enrollment, eligibility, and changes, ensuring that your employees receive the benefits they are entitled to.
Recruitment and onboarding module
This module assists in the entire recruitment process, from posting job vacancies to selecting candidates, conducting interviews, and onboarding new hires. It helps streamline the hiring process and ensures that new employees have a smooth transition into the organization.
Performance management module
With this module, you can set performance goals, track progress, and conduct performance appraisals for your employees. It provides a structured way to assess employee performance and provide feedback, facilitating employee development and growth.
Learning and development module
This module allows you to create and manage training programs for your employees. You can offer online courses, workshops, seminars, and other learning opportunities. It tracks employee participation and progress, helping you identify skill gaps and training needs.
Analytics and reporting module
HRMS software provides insights into your HR data through various analytics and reporting tools. You can generate customized reports on metrics such as employee turnover, attendance, performance, and more. These insights help you make informed decisions to improve HR processes and overall business performance.
Benefits of Using HRMS Software
The adoption of HRMS software ushers in a new era of streamlined HR management, offering a host of compelling benefits.
Reducing manual work: HRMS can automate repetitive and tedious tasks, such as payroll calculation, tax filing, leave management, expense claims, and more. This can free up your time and resources for more strategic and value-added activities.
Improving accuracy and compliance: HRMS can reduce human errors and ensure data consistency across different systems. It can also help you comply with Singapore laws and regulations, such as CPF contributions, IRAS filings, MOM requirements, PDPA guidelines, and more.
Enhancing data security: HRMS can protect your sensitive data from unauthorized access, theft, or loss. It can also provide backup and recovery options in case of emergencies or disasters.
Increasing employee engagement: HRMS can improve employee experience by providing self-service portals, mobile apps, chatbots, feedback tools, gamification features, and more. These can help employees access their information, communicate with their managers and peers, request for leave or claims, give or receive feedback, learn new skills, and more.
Boosting employee performance: HRMS can help you track and measure employee performance, set goals and objectives, conduct appraisals and reviews, identify strengths and weaknesses, provide coaching and mentoring, reward and recognize achievements, and more.
Developing employee talent: HRMS can help you attract and retain talent by providing recruitment tools, onboarding programs, career development plans, succession planning tools, learning management systems (LMS), e-learning courses (e.g., SkillsFuture), talent pools (e.g., MyCareersFuture), and more.
Why You Need HRMS Software in Singapore
Singapore's business landscape is characterized by its competitive nature and rapid technological advancements. To thrive in such an environment, businesses need to leverage tools that optimize efficiency and strategic decision-making. HRMS software aligns perfectly with this requirement.
By adopting HRMS software in Singapore, you:
Keep pace with digital transformation trends and stay competitive in the market.
Streamline your HR processes, allowing you to allocate more time to strategic initiatives.
Ensure compliance with Singapore's employment laws and regulations.
Enhance employee experience through self-service portals and streamlined communication.
Access valuable insights through analytics to drive better HR and business decisions.
By using HRMS software, you can reduce manual work, errors, and costs for your HR department. You can also improve productivity, efficiency, and accuracy for your business operations. Moreover, you can enhance employee engagement, retention, and performance for your business growth.
Ultimate HRMS Solution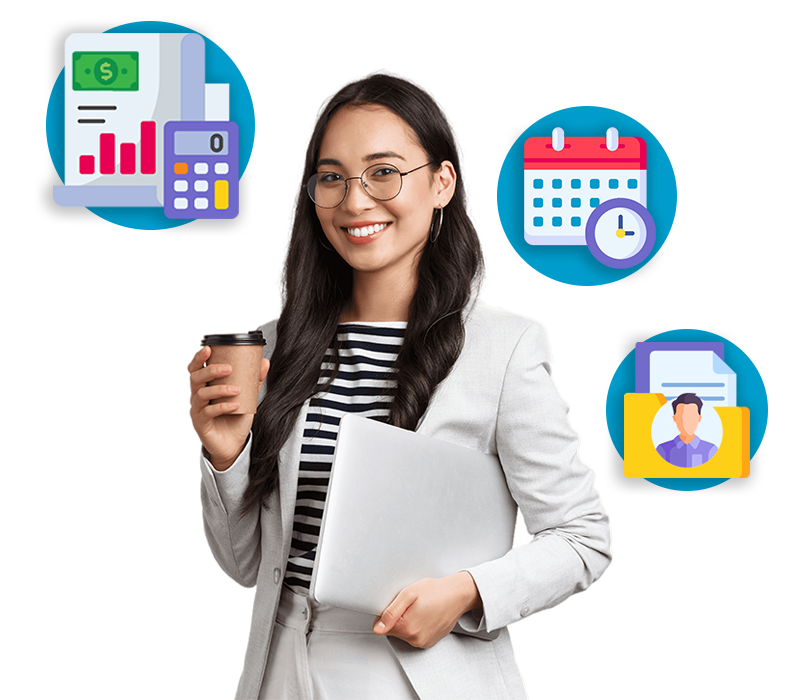 Among the leading HRMS solutions in the market, HRMLabs stands out as a comprehensive platform tailored to meet Singapore's business needs.
HRMLabs stands out as a preferred HRMS for companies in Singapore due to its unique combination of flexibility and power. Here are some key features that make HRMLabs the go-to solution for businesses:
Ease of Use: HRMLabs offers a user-friendly interface that enables anyone to use the system without prior technical knowledge. You can easily navigate through the system and access the features you need.
Flexibility: The system is fully customizable, allowing you to pick and choose the modules that align with your specific HR needs. This flexibility ensures that you have a tailored HRMS that meets your requirements.
Compatibility Across Devices: HRMLabs provides both mobile apps and web apps, ensuring a seamless experience across different devices. Whether you're using a smartphone, tablet, or computer, HRMLabs works smoothly on smaller screens.
Always Up-To-Date: HRMLabs stays updated with the latest government policies, taxes, and employment rules. This ensures that your HR processes are compliant with the latest regulations, saving you time and effort in keeping up with changes.
Cloud Platform: With HRMLabs, you can enjoy the benefits of a secure and reliable cloud platform. Your data is stored in a secure environment with guaranteed uptime and daily backups, giving you peace of mind.
Dependable Customer Support: HRMLabs provides dependable customer support to assist you thoroughly. Their trained support team is ready to address any questions or concerns you may have, ensuring that you are in good hands throughout your HRMS journey.
Trusted by Leading Companies: HRMLabs has gained the trust of numerous leading companies in Singapore, regardless of their size. Whether you have 5 or 500 employees, HRMLabs optimizes your HR management workflow, helping you streamline processes and drive business success.
Unleash the potential of HRMS software and unlock a future of streamlined HR management, optimized processes, and empowered growth. Elevate your business to new heights with HRMLabs and seize the advantage of efficient, accurate, and strategic HR management in Singapore's dynamic marketplace.