What is Millennial?
Nowadays, a lot of people said things like "Millennials are so lazy", "They are so entitled and don't understand how to work hard", "They don't know how to socialize because they always on their phones". Millennials have been given negative stereotypes such as lazy, impatient, entitled, unintelligent, disrespectful, ungrateful, and other negative stereotypes. But what exactly is Millennial? And how are millennials in workplace like?
An article published in Time magazine stated that millennials were born start from 1980 or 1981. However, millennials might range from people who were born from the early 1980s to the mid-1990s and early 2000s. Millennials are tech-savvy and love using technology and social media platforms. This makes millennials are currently active in workspace.
Also, Pew Research Center also stated that anyone born between 1981 and 1996 is considered a Millennial. Anyone born from 1997 onward is part of Generation Z (or Gen Z in short).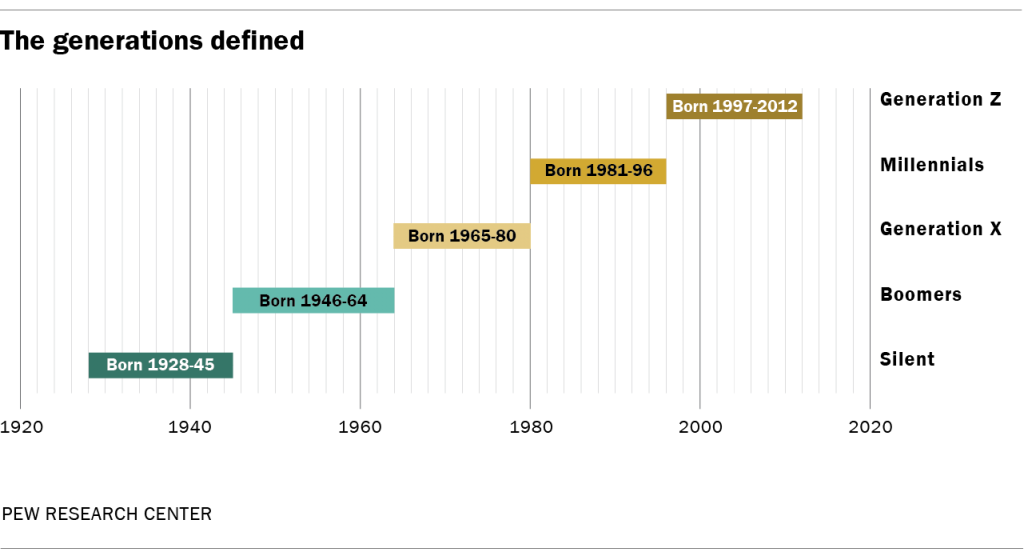 As for 2021, Millennials' age range from 25 years old – 40 years old. Many of the millennials are currently workers. Also, many of them have even occupied middle to senior-level management in various industries. Based on research, in 2025 75% of the workforce will be filled by millennials. A lot of research has been conducted to understand millennials in workspace. Then, what exactly is the mindset of this generation? What sparked their interest? And how should the company treat them?
Always Up-to-date With Technology
Unlike Boomers who grew up when the television technology expanded that later change their lifestyles and connection to the world or Generation X who grew up as the computer revolution is taking hold, Millennials came of age during the internet explosion. This is why Millennials are so familiar with the internet and technology.
Millennials are on the lead in seizing on the new platforms of the digital era. They use the internet, mobile technology, and social a lot to construct personalized networks of friends, colleagues, and affinity groups. Millennials can be labeled as "digital natives" because they are very active in the digital world.
As a generation that grows up in an era of very fast technological development, they certainly need technology to make their work more efficient and reduce administration works. For example, millennials in workspace use a lot of online software to help them do their job. That's why companies need to provide wi-fi access for them.
In addition, Millennials are relying so much on their gadget to do their job better. With their smartphones, laptops, iPad, and other gadgets, Millennials are almost online 24/7. They like to communicate with each other in the digital world using email, text messaging, and social media.
They have a firm grasp on how to use these tools to do things like build relationships, crowdsource solutions and research information on demand.
Also, nowadays, almost every company uses messenger software to help them communicate with each other.
Open Mindset and Team Player
Millennials in workplace are team-oriented. This probably because when in school, they were taught lessons using a cooperative learning style. They were given homework or tasks as a team. Therefore, they are used to working with a team and want to make friends with their coworkers. Because millennials believe that they will get a better result if they work together as a team rather than work by themselves.
This generation thinks that working within a team environment is very important. They love to work on projects, solving problems with different points of view, and creating new and innovative approaches. This can be said that millennials want to have a social atmosphere in the workplace. A workplace that fun, relaxed, and comfortable is the optimal and best workplace for millennials.
Millennials are an adaptive generation because they have an open mindset. They tend to ignore the background of cultural differences. This also applies to millennials in workplace. What is important for millennials is creativity and community. They always want to work with others to get maximum results, and being happy with anyone who can get a job done well.
Love Changes
Because they have an open mind, the millennials in workplace also like changes. This generation is constantly looking for new and better things. Therefore, the millennial generation in the work is often labeled as the generation of "fleas". Because they often change jobs at very short notice.
However, because they change their job a lot, millennials become a generation that has a lot of experience at a young age.
With their creative and open mind, they just don't agree with doing something in a certain way just because that's how it's always been done. Business and technology are always changing and the way they work should also change.
Not only that the millennials generation are adaptive to change, but they also embrace it. Often, this generation is the one who is the first to adapt to changes in business, technology, and the economy itself. Because if the business is not adaptive to changes, it might be lost revenue that will affect business sustainability. Being adaptive to a continuously changing atmosphere allows millennials to advance in and take on a variety of roles in the workplace.
Ideal Workplace For Millennials
Work-life balance
Flexible working hours policies and the opportunity to work from other places (remote working) can also increase the job satisfaction of millennials in their workspace. Most millennials hope that they could determine their own working hours that suit their preference. They believe that their productivity will increase if they can set their own schedule and work location. Also, they want to have a work-life balance. Millennials think that work-life balance is important for both their professional life and personal life.
Millennials in workplace thinking that work-life balance is more important than financial reward. They also value having flexibility in their daily lives. They tend to choose a career that allows them to live the life they want. By this could mean that besides working Mon-Fri, they want to do after-work activities too. Such as enjoying their hobbies, join social events, or having quality time with their family.
New Knowledge
The Muse said that millennials in workplace also want new guidance and knowledge. This happened because several millennials started working during the 2008 economic crisis, and had various challenges that had to be resolved.
In addition, millennials also want some input and direction about their work. This knowledge is believed to be able to bridge the gap between millennials and the generation above, like baby boomers and generation X.
They also have an extraordinary passion for learning new things. Millennials have a deep curiosity about the world and want to further develop their skills and knowledge that can help their professional lives. Furthermore, millennials know how important it is to set and achieve goals, both for personal and professional growth.
Kind Boss
Reporting from CNBC, when starting a new career, millennials want to have a boss who is friendly and easy to find when they need to ask something. Providing direction and training by a boss is one of the factors that millennials consider in choosing a workplace.
Even though they want to be briefed, millennials also want to be trusted by their boss that they can complete a job well. They prefer a boss like this instead of those who do micro-management.
To satisfy millennials in the workplace, a company needs to suit their preference in technology as they use technology a lot. This might sound like a lot of time and money spend but actually no. With the right one, millennials will feel that they can work at their best that later will be beneficial to the company.
What can employers do for millennials in workplace?
Work Environment
Employers can provide flexible working hours and a relaxed workplace. For example, employees can work for 8 hours a day between 8 AM-7 PM. They can choose when to start their working hours as long as they still adhere to the company's policy. Also, set company policy regarding dress code to casual. Millennials love to work while in their casual attire. Who doesn't like to work on their t-shirt and jeans, right?
Learning and Training Opportunities
As said before, millennials in workplace like to learn more. Employers can provide reimbursement when employees want to join a training or seminar. If you can't reimburse 100% of the training fee, you can provide 70% or even 80% reimbursement to the employees. Also, if possible try to look for any online training for your employees that they might like to join. Because they are tech-savvy, they like online learning to improve their skills. Another option is that the employers also can arrange in-house training for the employees.
Work Ethics
Millennials are not bond to "we do the job like this". They like to find out the best and fastest way to finish their job. With the help of technology of course. Sometimes, they might find a new effective way of getting the job done. This later can change how the business operates effectively.
Boss Relationship
Loyalty to the boss is their number one reason why they stay in a job. Dissatisfaction with the boss can be the biggest reason why millennials in workplace quit their job. Employers should always remember to give them the praise they deserve. If the project is well done, praise them during the monthly meeting. Even a simple "thank you, you have done a very good job" text is enough to make them feel appreciated. Hold them accountable for their mistakes and praise them for success.