Why hiring process is important
Running a successful business requires more than just a brilliant idea and a solid business plan. It hinges on the ability to hire the right people at the right time for the right positions. Effective recruitment strategies are essential to attract and onboard top talent.
If you are responsible for hiring the best talent for your organization, you must be struggling to create and implement a recruitment strategy that works. You might be searching for helpful resources that can help you build a dedicated recruitment team to build a smarter workforce for your organization.
Designing the hiring process
You can create a hiring process on sheets, emails, and notes showcasing candidates accepted, rejected, or waiting for review. You might go back and forth to present the progress report on number of employees hired to your seniors. However, it will only waste your time, energy, and effort.
You need a complete list that demonstrates every activity of a hiring process. And, what could be better than flowcharts that present every step of the process with complete efficiency. These flowcharts look formal and eye-catchy at the same time. Incorporate HRMLabs flowchart template to manage and regulate extensive process for your organization.
Here we will look at top flow chart hiring process templates that look amazing and are completely customizable. We encourage you to evaluate your process in your company and use our "Job Hiring Process Flowchart" template. This template can help you get started on designing a good employee hiring process.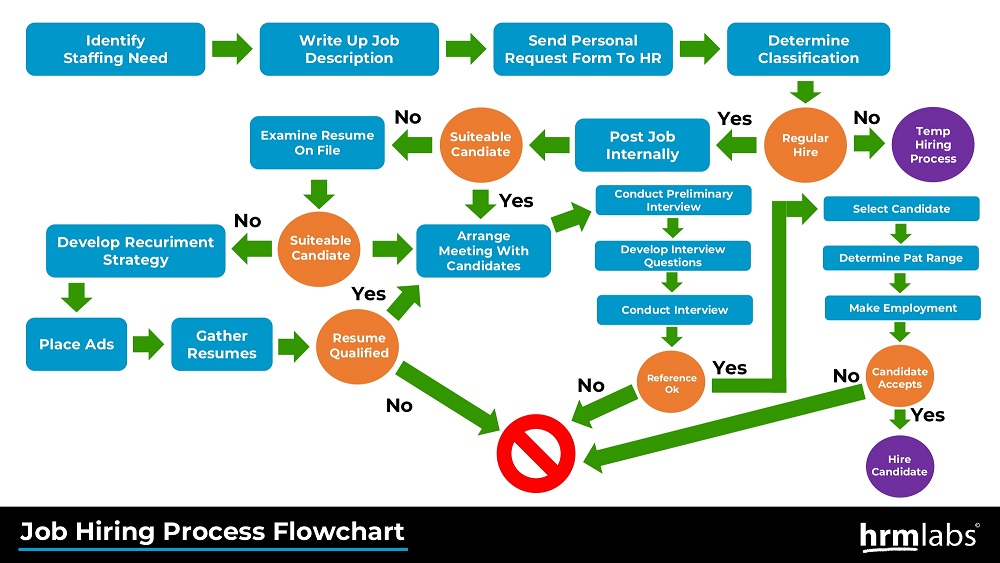 Tips for designing a good employee hiring process
Here are some additional tips for designing a good employee hiring process:
Be clear about the job requirements: What are the essential skills and experience that you are looking for in a candidate? Make sure that you are clear about these requirements in your job posting and during the interview process.
Use a variety of assessment tools: Don't rely on just one assessment tool, such as a resume or a job interview. Use a variety of tools, such as skills tests, personality tests, and reference checks, to get a well-rounded view of the candidate.
Get input from others: Don't make the hiring decision on your own. Get input from other people who will be working with the candidate, such as their manager or team members.
Be prepared to make an offer: If you find a candidate that you are excited about, be prepared to make an offer quickly. The best candidates are often in high demand, so you don't want to lose them to another company.
By using our template and following these tips, you can design a good employee hiring process that will help you find the best candidates for your open positions.