Companies in the food and beverage (F&B) and retail sector will be most affected by safe distancing requirements as Singapore re-opens its economy. Those business in Singapore could receive up to $10,000 each in payouts under a new scheme to accelerate digital transformation. They will be the first to benefit from the new Digital Resilience Bonus. 
The Digital Resilience Bonus (DRB) will be currently targeted to Food Services and Retail sectors. There is a greater urgency for these sectors to digitalize and adapt quickly due to the front-facing nature of their businesses. In addition, it will also help these sectors to be more resilient and adapt to the new post-COVID norms. 
Above all, under this bonus, eligible businesses can receive a payout of up to $10,000 if they adopt digital solutions listed below. 
How Will My Enterprise Benefit from Adopting The Digital Solutions?
As we exit from the pandemic and starting our new normal – new economy, safe management efforts are expected to remain in place for a considerable time. However, new normal is likely to emerge globally, where working from home, interacting virtually, and managing people online. If your business is in the F&B and Retail sector, all in one digital solutions will help you to adapt and thrive in this new normal.
1. E-Invoicing
First, you can exchange the invoice document between a supplier and a buyer in an integrated electronic format. Change your paper-based process that prone to human error resulting in increased costs and processing lifecycles for companies.
2. HR and Payroll Solutions
Second, a misplaced decimal point could cause serious issues, but HR software reduces the amount of error to a bare minimum. HRMLabs helps to automate the most common processes such as payroll information based on attendance and leave the system, and the automation helps keep everything working properly!
3. Inventory Management
Third, Inventory management refers to the process of ordering, storing, and using a company's inventory. These include the management of raw materials, components, and finished products, as well as warehousing and processing such items.
4. Attendance Management, Even Automated Contact-less Temperature Measurement
Last one, prepare the safest procedure for your employees and visitor in the post-covid norms. Avoid using plastic surfaces like swipe cards and fingerprint system on your office, change to touchless attendance.
How Do I Apply For The Digital Resilience Bonus?

You can apply Digital Resilience Bonus with these 4 steps :
Take up digital solutions which qualified for the bonus, like 

HRMLabs

.

Sign up for PayNow Corporate and Nationwide e-Invoicing Network

HRMLabs as the providers of qualified solutions will submit EUN to IMDA if you are using the solutions from 1st June 2020 to 30th June 2021.

IMDA will credit the Bonus into your PayNow Corporate account
Is My Business Eligible to Get Digital Resilience Bonus?
So, is my business eligible to get this bonus?
Food Services & Retail businesses that are incorporated on or before 26 May 2020 and have adopted pre-defined categories of digital solutions by 30 June 2021 can receive bonus payouts of up to $10,000 if they fulfill one of this 3 category :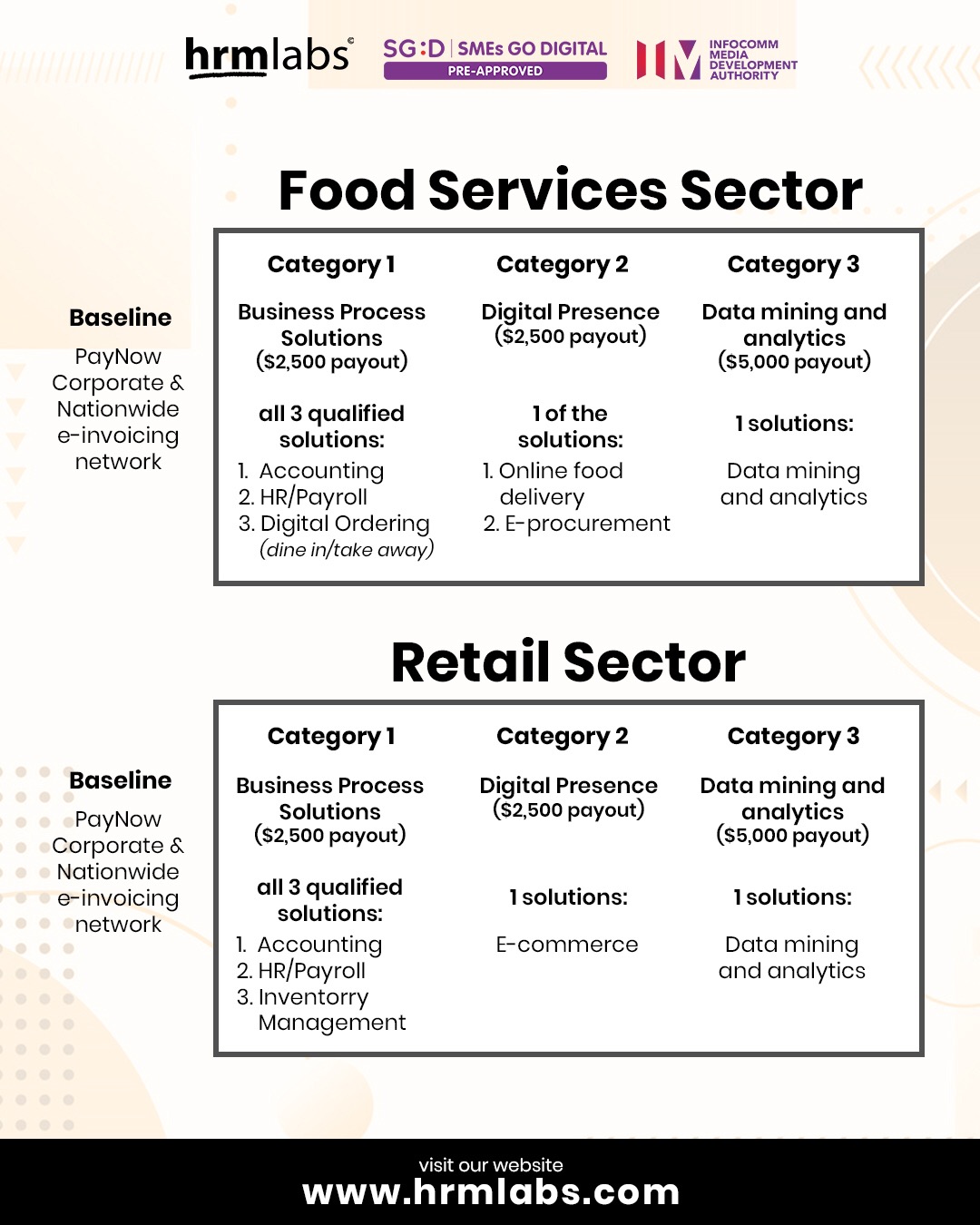 [download_after_email id="5208″]